Wrought Iron Fences & Railings
Benefits of Pang Giap's Wrought Iron Fences & Railings
1. Strength & Durability
Wrought iron fence & railings are well known for their strength and durability, therefore they are often used to protect properties & houses. They are also the most popular choice for balcony railings, swimming pool fences, garden & pet fences.
All our wrought iron fences are hot dip galvanized for outdoor usage, so that they are long lasting, and can withstand rain without rusting for many years

2. Wide Range of Designs

We have many designs and patterns to offer for our iron fences & railings. Ranging from classic & majestic design, to modern & simplistic look, our fences & railings will make your house and property look nicer and appealing.
We have the most experienced workshop technicians & welders to ensure that the railings & fences that we manufacture are of the best quality.
3. Security & Privacy
Our wrought iron fences & railings offer the best protection as they are very strong & secured.
The design can be customized to improve the security, such as having narrower spacing between each bar, so that intruders cannot squeeze through the fence. Or having arrows or spears on top of the fence to prevent people from climbing over.
Our fences & railings also allow you to have more privacy. Such as having smaller gaps between each bar (or having decorative designs) to prevent people from looking into your house or property.
Balcony & Yard Fence Railings


Wall-Top Fence R330

Front Yard Fence R355 (can be made using iron or chengai wood)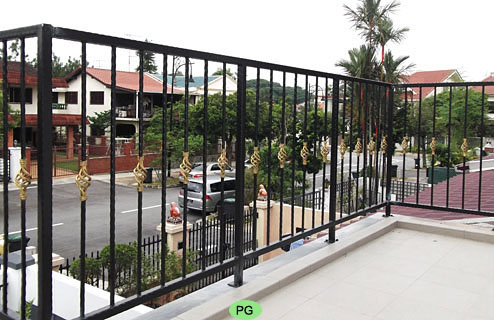 Balcony Railing R358

Balcony Railing R365
Outdoor & Boundary Fence Railings
Our Fences and Railings provide a tough and secure boundary for your property.

Our Fence Railings at Orchard Road

Our Fence Railings Project at Chuan Park Condo

Our Fence Railings at Hougang Ave 5
Foldable & Movable Fences & Railings

Foldable Iron Fence R360

Foldable Iron Fence R360

Foldable Fence with Wheels R361
More railings that we have done:
| | |
| --- | --- |
| Wrought Iron Balcony Railings R307 | Wrought Iron Balcony Railings R307 |
All our wrought iron are of good quality 100% solid material. The Fence & Railings will be Hot Dip Galvanised for weather & rust resistance, & for longevity.
If you have any enquiry or if you want to see more designs, please call or email us.