Slim Grilles - Modern & Viewtiful
Pang Giap's Slim Grilles allow the safest and most unobstructed view. Our innovative slim window grill is only 6mm thin, and it is made of the strongest full solid Mild Steel. They can be installed for HDB, Condo, Privates Houses, Commercial/ Industrial use.
Why choose Slim Grille:
1. Choose Mild Steel for Strength & Security
We understand that many home owners in Singapore stay in high rise HDB flats and condos. They want to install window grilles for safety and security reasons. Especially when we have young kids at home, we need grilles for their protection. Singapore has low crime rates but we do not want to take the risk of burglars breaking in to steal our valuables.

Our slim window grilles offer strong protection as they are made of full solid mild steel bars, known for their strength & durability. Unlike other grille material such as aluminium, mild steel grilles are very difficult to break.


2. 'Viewtiful' with Slim Grilles
Some people do not want to install window grilles in their houses, because they do not like the bulky appearance of the grille, and the thick 'jail-like' bars which feels like staying in a prison. Also, because of these thick bars, the window grilles are blocking the window view.

Our slim window grilles are the perfect solution. Our slim grilles are made of thin and strong steel bars. Because they are so narrow (6mm slim), there are much less bars blocking your window. You can get bigger view from your window to enjoy the sceneries. Also the spacing between each grill bars can be as wide as 6 inch, giving you even better window view.

Our slim grilles also help to allow more lights into the house, making your rooms look brighter. Our slim grille makes your home look more modern, refreshing and stylish. It is the most popular window grille choice in Singapore.


| | |
| --- | --- |
| Elegant & modern grilles | Almost full view of balcony window |
| Perfect match for your windows | Slim Grilles perfect for all windows |

3. Sliding, Swing Open & Fixed Type of Slim Grilles Available
Our slim grilles are available in sliding type, swing open type & fixed type to suit your needs & convenient.


| | |
| --- | --- |
| Slim Grilles Fixed Type | Slim Grilles Swing Open Type |
| Slim Grilles Sliding Type | Slim Grilles Sliding Type |

4. Save Space
Say good bye to old fashion bulky grills. Our window grilles are only 6mm slim, and they come in either fixed, sliding or swing open. The fixed type is unique as the outer frame of the grille is only around 12mm x 12mm thick.

Because its slim frame, the window grille (fixed type) will not protrude out much. This allows the window grille to have a "flush against the wall" appearance, and giving the room more 'spacious' look. This is useful especially in Singapore where our rooms are not relatively big.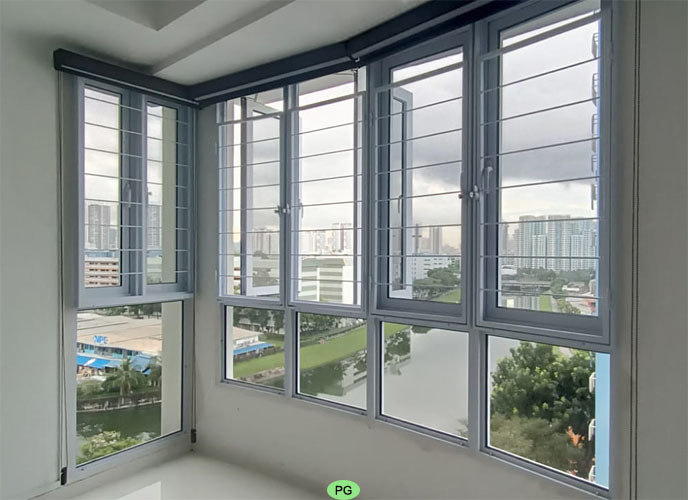 Slim framework for Slim Grilles, Fixed Type

Slim Grilles can be installed anywhere in the house, not just the balcony.


5. Easy to maintain
It is important to clean your windows & grilles to have a healthy home. Our slim window grilles can be swing open or sliding, therefore making it easy for you to clean the grille and the glass windows at the same time. Because of its simple design, our grilles are easy to clean. The slim grilles are also durable and powder coated, therefore suitable for Singapore humid climate.


6. Flexible Designs
We understand that in some HDB flats there may be certain window grille designs that the homeowner needs to follow, especially for the service yard. Likewise for many condos there are controlled designs set by the condo management that needs to be followed.

Because of the design flexibility of our slim grille, we can make it into the design that you want. Our slim grilles are also available in a wide range of colours.

4 to 4.5 inch is the average bar spacing (between each bars) for our window grille. But the spacing can be adjusted to suit your need. It can be from as small as 2 inches to as big as 6 inches:

5 to 6 inch spacing:
This wide bar spacing is perfect for customers who want the least grille blocking on their window. With big bar spacing and less grille bars, you can get to enjoy the best window view.

3 to 2inch spacing:
This small narrow spacing is popular with owners who have small pets at home and do not want them to escape out of the window.


| | |
| --- | --- |
| Slim grille designs are flexible | Slim grilles done for condominiums |
| Wide 6 inch spacings for wider window view | Narrow 2 inch spacings for more protection |

Our slim grilles are also available in door gates. They also offer strong protection while offering bigger view of the outside, and allowing more lights into the room. Our slim grille gates are available in swing type, sliding type and foldable types.


| | |
| --- | --- |
| Slim Grille Sliding Gate | Slim Grille Folding Gate |
Please call or email us for enquiry or quotation on our slim grilles. Don't wait! Make your home 'viewtiful' with our Slim Grilles today!
If you have any enquiry or if you want to see more designs, please call or email us.